Campaign 2015
Peddling for Domestic Violence Awareness
A thank you note from Val
Once again the vest took off on it's mission to raise awareness to the fact that DOMESTIC VIOLENCE MUST STOP.
This time our trip took us from Toowoomba through Allora, Warwick, Leyburn, Millmerran, Dalby, Goombungee and back to Toowoomba. The Darling Downs itself and the residents of the small towns were lovely. Many people along the journey asked me about the vest. Many people along the journey were touched and in fact praised us on our efforts in gettting the message out there.
Once again in talking to many people the DV atrocity in our society is impacting on so many and therefore I will continue my plight with Corinnes' spirit (daughter died May 2012 as a result of DV) and the vest.
I wish to thanks all who supported me on all levels including those who kindly donated financially to CRDVS.
Until next time stay safe.
Thankyou
Val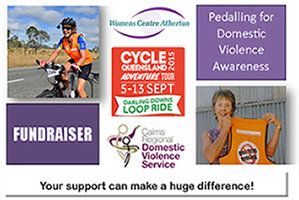 You can still make a donation to help victims of domestic and family violence by clicking on our "Make a Donation" button.
Donate Now